neOasis URBAN gallery
Design Team Finalists
TEAM / Phoenix / PROJECT / The Oasis of the Phoenix
Content from Youtube can't be displayed due to your current cookie settings. To show this content, please click "Consent & Show" to confirm that necessary data will be transferred to Youtube to enable this service. Further information can be found in our Privacy Policy. Changed your mind? You can revoke your consent at any time via your cookie settings.
Consent & Show
We are group of visionary maker-thinkers that collaborate to build inclusive community in effort of growing harmoniously with the nature even in scarcity. In addition, we favor the congruency between heavenly cosmology and earthly built-environment, and how they can be physically carved as a sustainable neighborhood. True to our name, we aim to spread benefit and goodness with an unbroken passion. Just like date (which its genus is Phoenix), we want to spread "benefits", and just like the myth of Phoenix, even when the bird died, a new one will born from the ashes (unbroken).
The ingenuity of our Ne[o]asis comes from our insistence in composing a region built on the equilibrium of faith, culture, hospitality, education, economy, sustainability, and equality. By taking notes of local context, we create a space where the concept of sustainability is ingrained into every aspect of life; so the inhabitants of our Ne(o)asis would be conditioned to sustainable living. With sustainability-oriented educational environment and a wide-scale permaculture system as the hallmark of our design, Oasis of The Phoenix helps our society to prepare for another glorious era where the sky is blue and the gardens are green.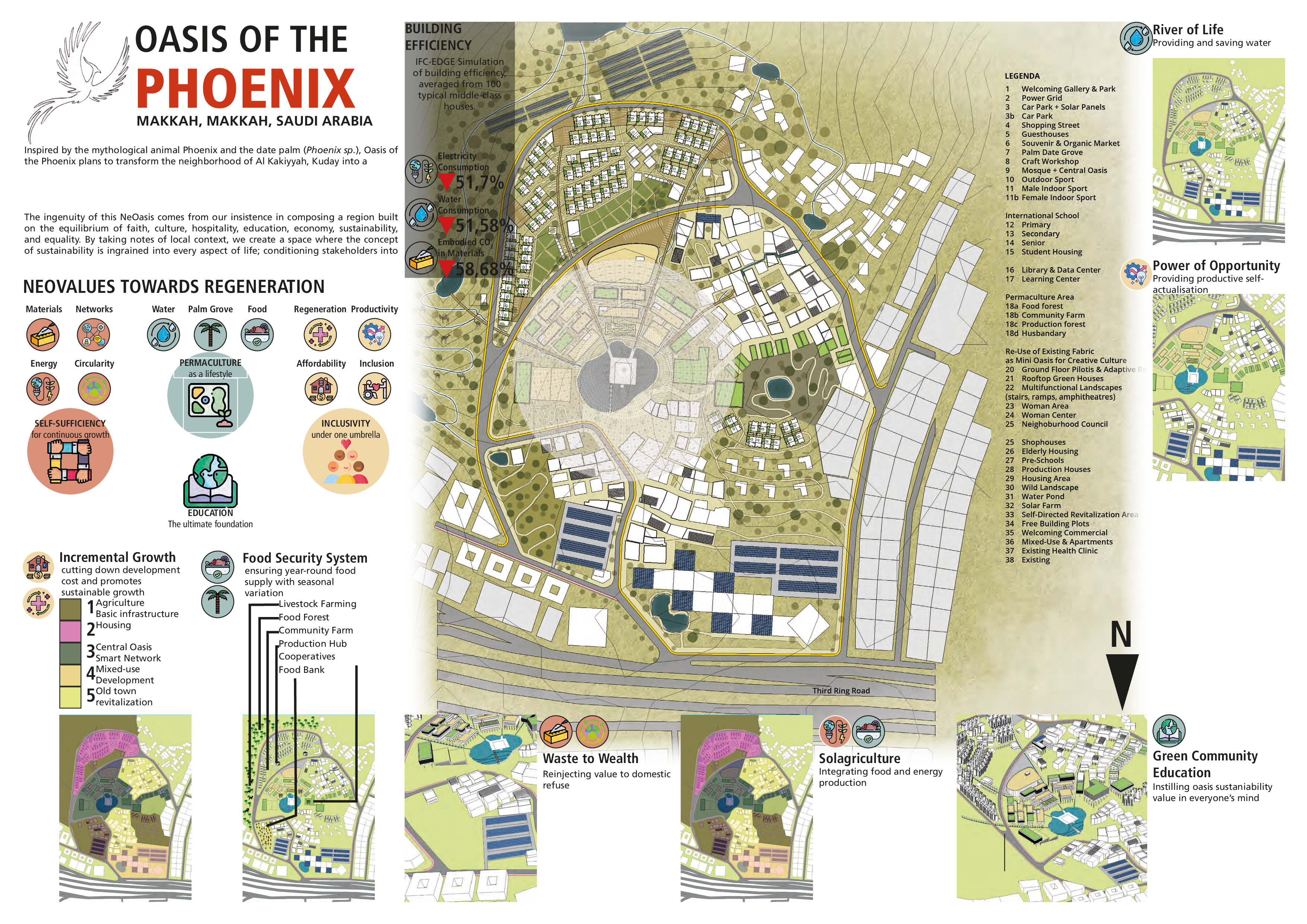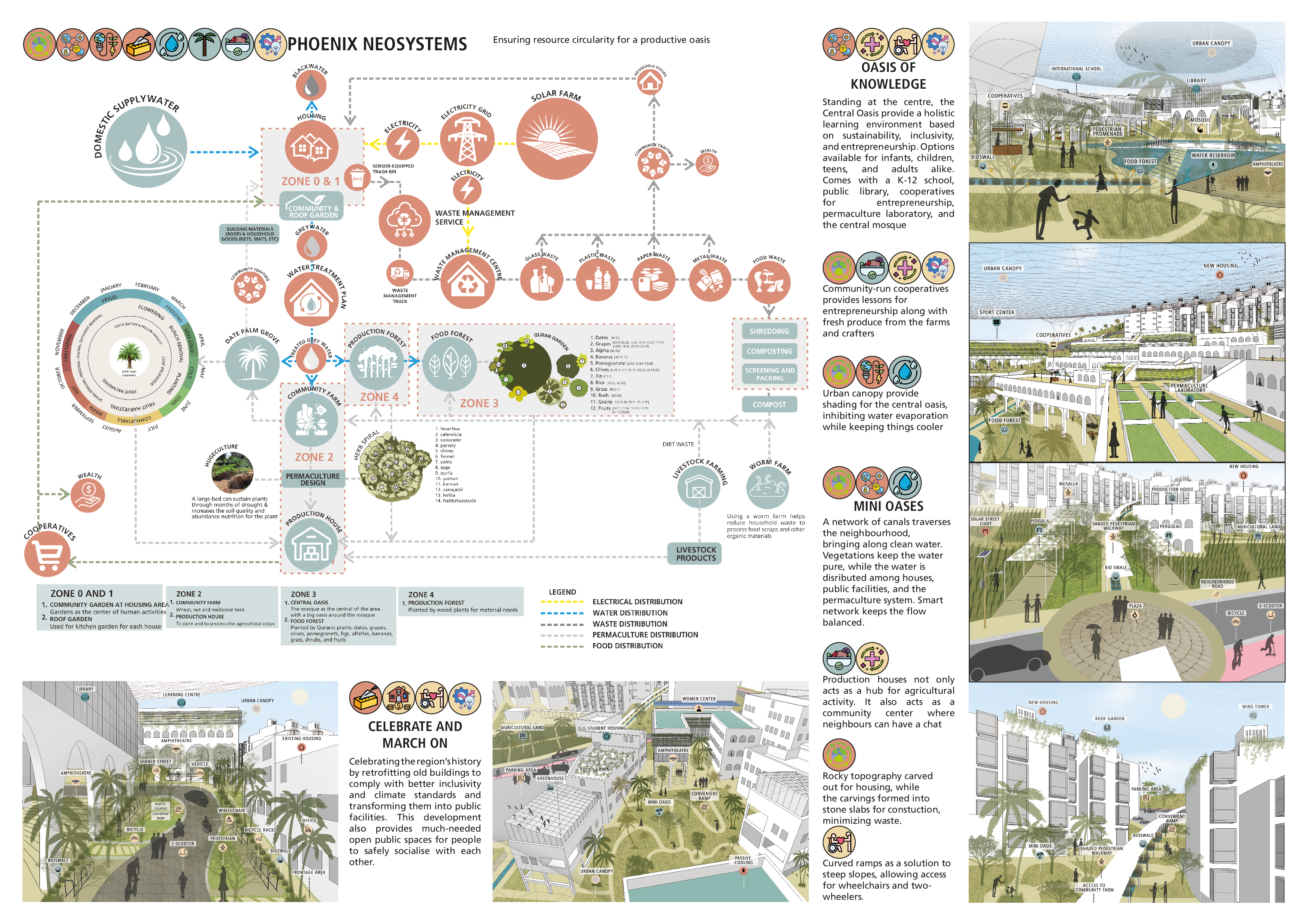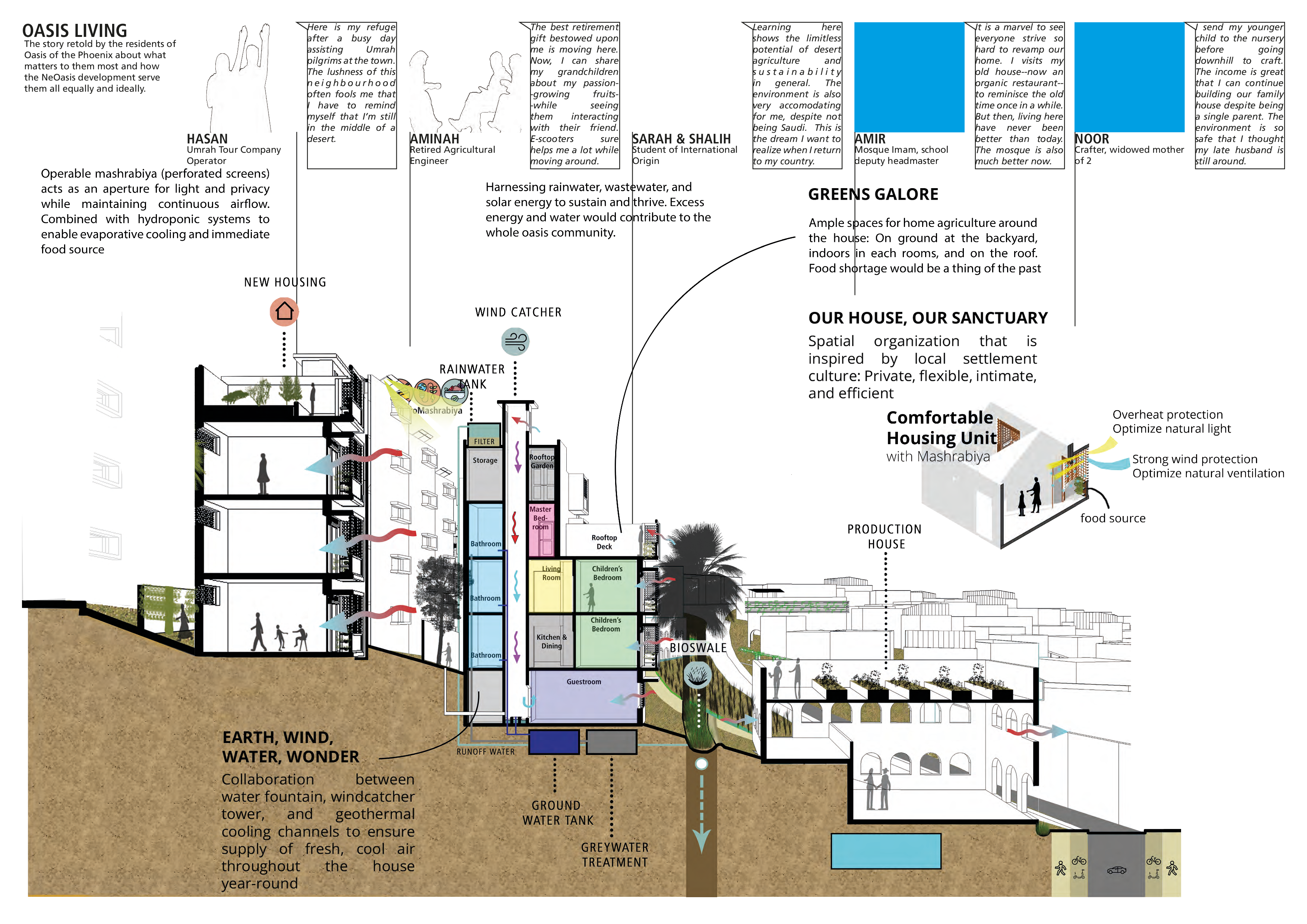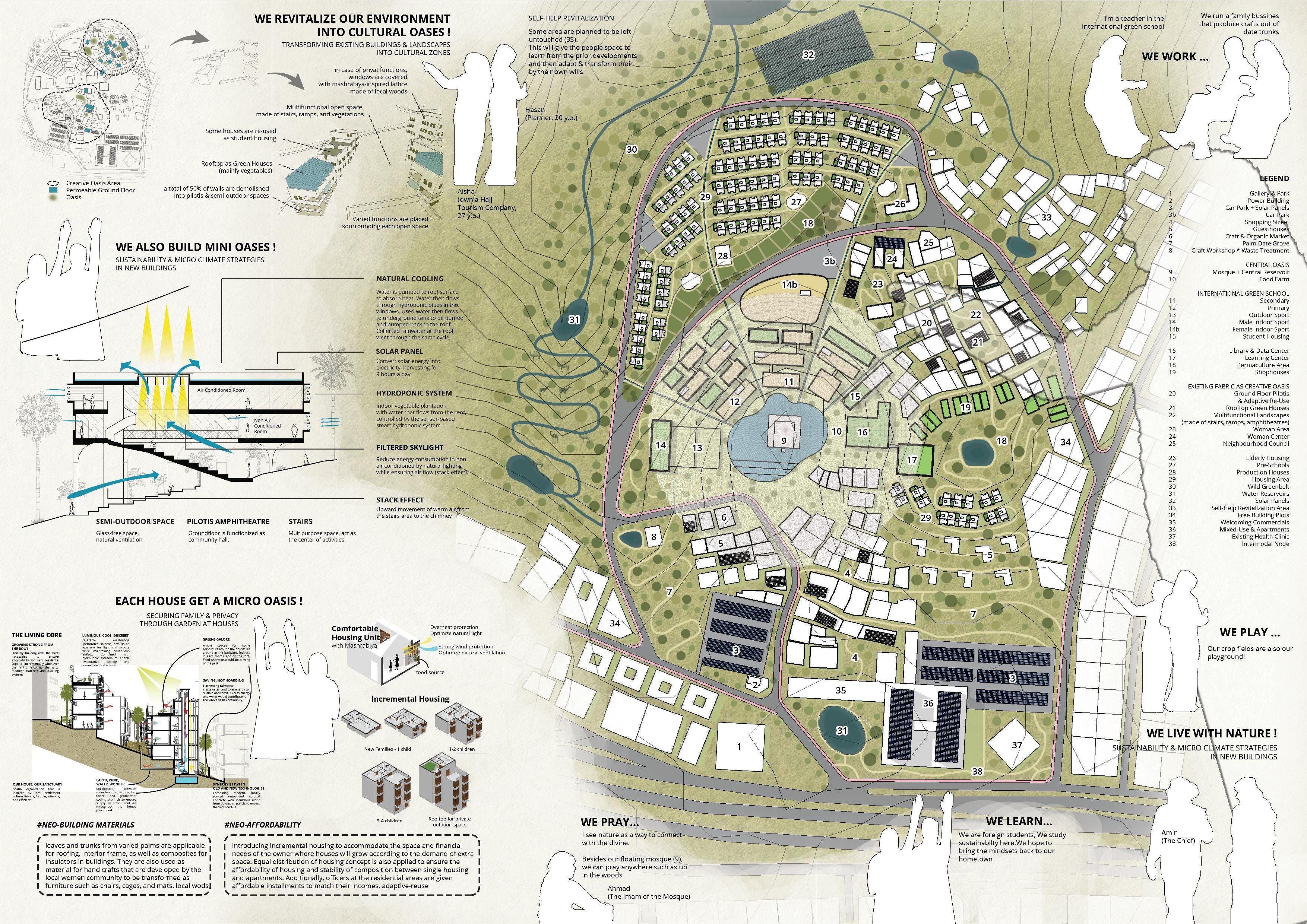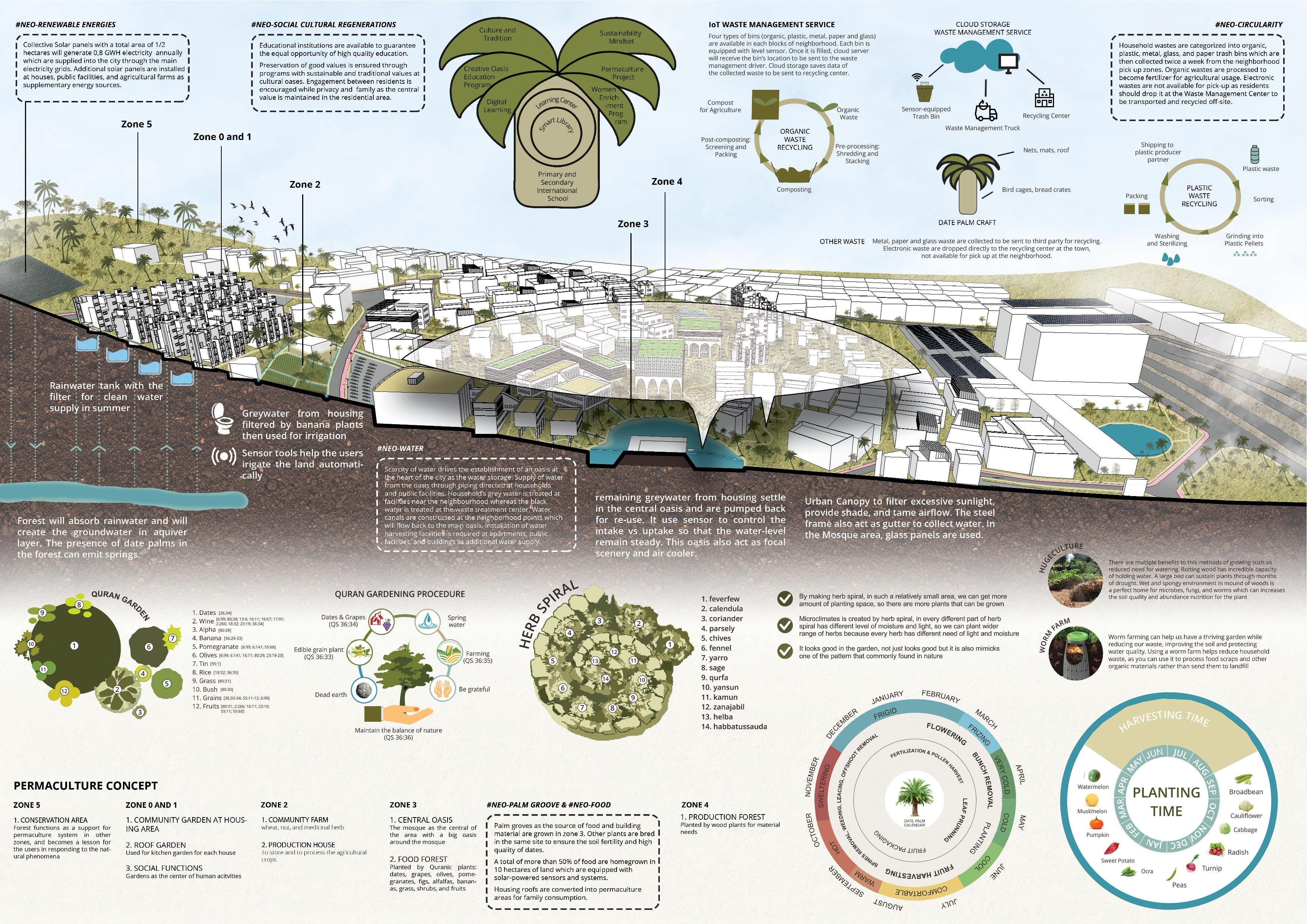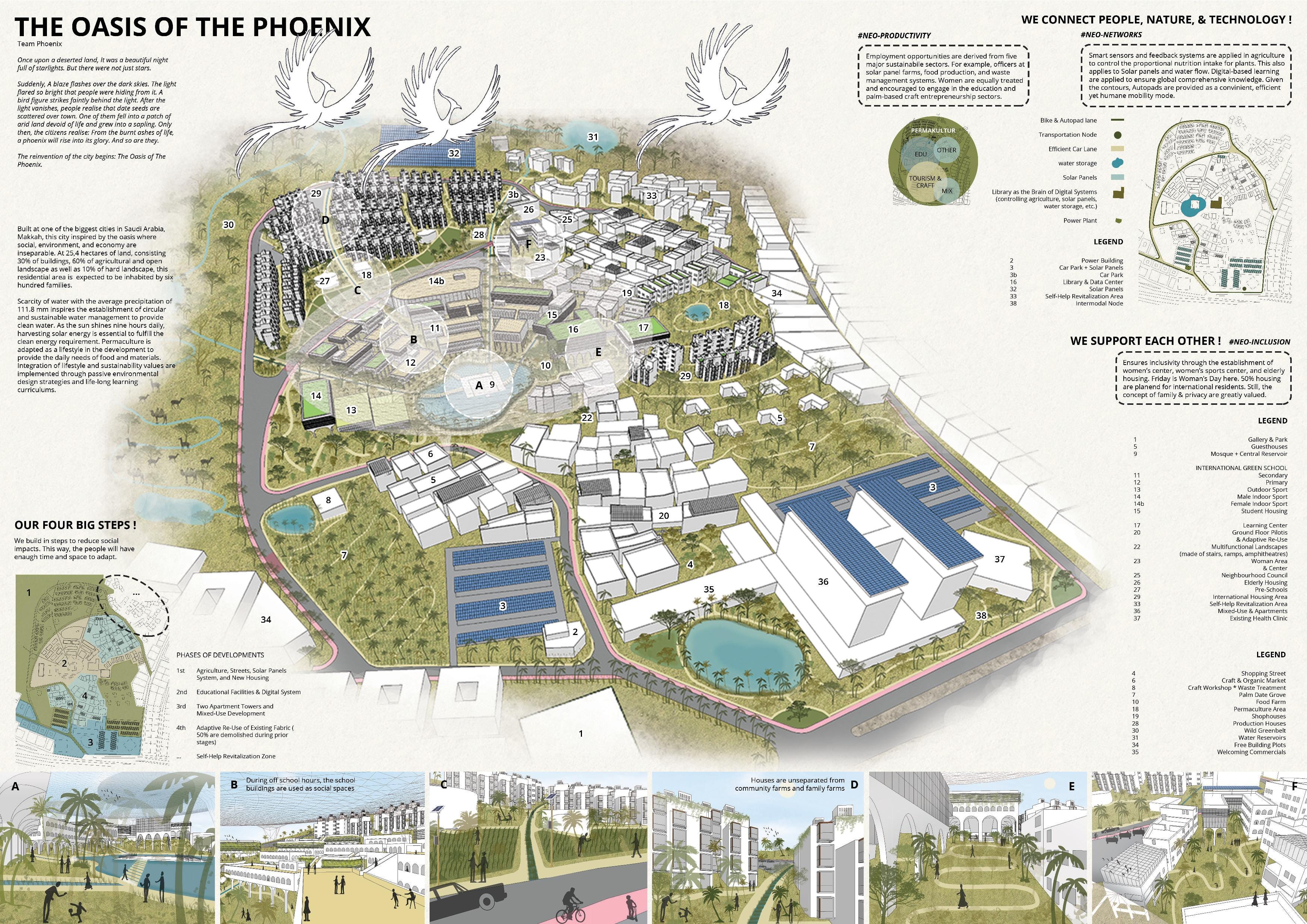 TEAM / UrbanWeavers / PROJECT / Kuday Oasis
Content from Youtube can't be displayed due to your current cookie settings. To show this content, please click "Consent & Show" to confirm that necessary data will be transferred to Youtube to enable this service. Further information can be found in our Privacy Policy. Changed your mind? You can revoke your consent at any time via your cookie settings.
Consent & Show
Our discipline comes from urban planning and design with a multidisciplinary aspect in looking into the urban form. We see urbanism as a fabric where each urban neighborhood is a pattern that forms a greater woven mosaic. Our beliefs is an integrated neighborhoods that respects and celebrates the tradition urban form.
Kuday Oasis retains and improve the existing urban form. An urban village that produces its own food, well connected to other parts of the city and its layout is an attraction to visit and enjoy the scene. Kuday Oasis gives opportunity for women to become part of the urban village. While their roles of looking after the family is a huge responsibility, the urban setting provides spaces for women to involve in the socio-economy through gardening, hospitality and dissemination of cultural knowledge.