neOasis WADI gallery
Design Team Finalists
TEAM / Panacea / PROJECT / Kasbah Oasis
Content from Youtube can't be displayed due to your current cookie settings. To show this content, please click "Consent & Show" to confirm that necessary data will be transferred to Youtube to enable this service. Further information can be found in our Privacy Policy. Changed your mind? You can revoke your consent at any time via your cookie settings.
Consent & Show
Our team is comprised of a diverse mix of students from various backgrounds, cultures, and genders. This collection of experiences fosters inclusivity, and strengthens our empathy for cultures, places and climate. Our ability to learn, analyze, evaluate, and understand problems, to find solutions, provides a logical framework for our creativity and innovation.
The use of systems and recycling of waste creates a selfsuffient system that allows for the sustainable and comfortable habitation of desert climates.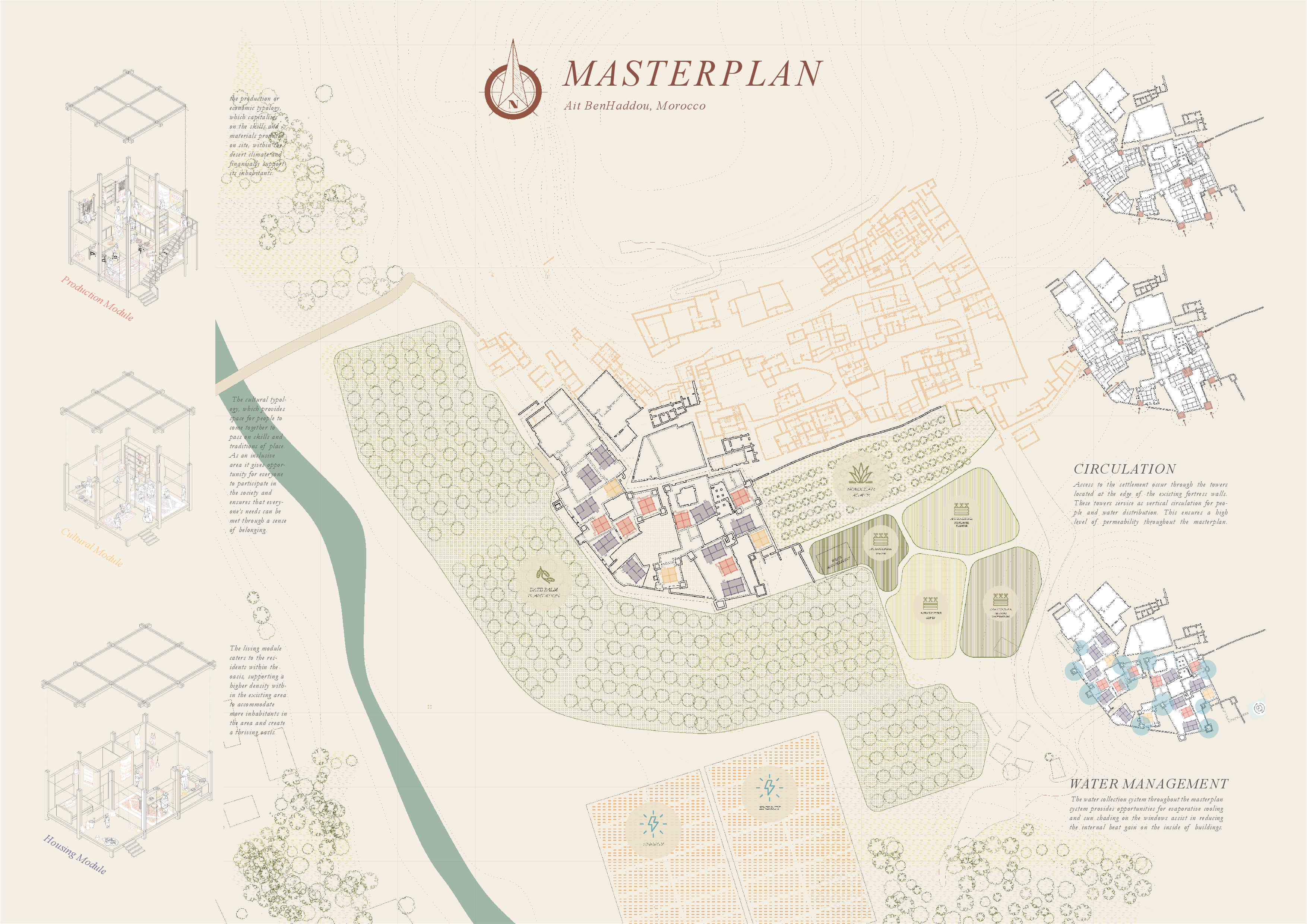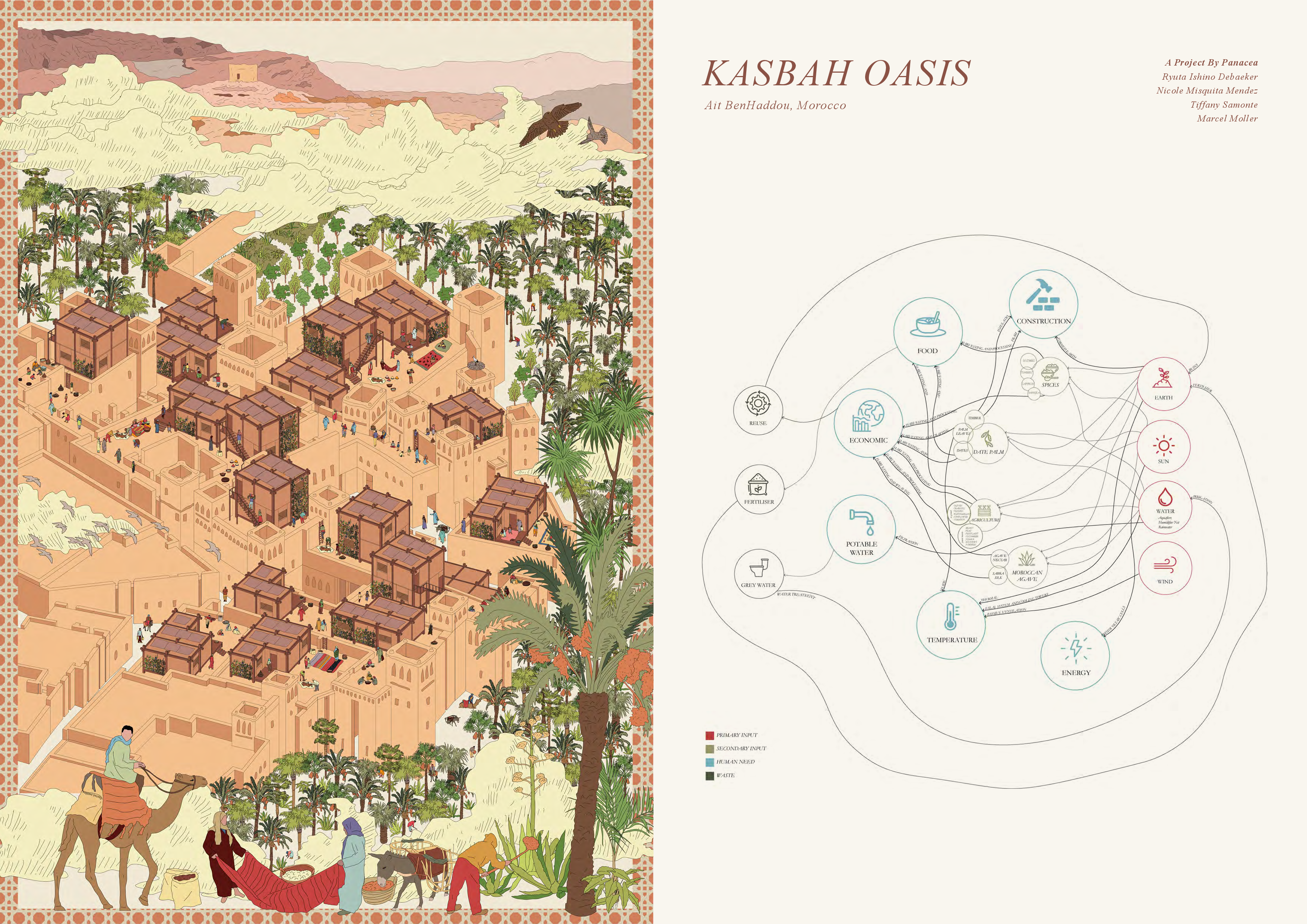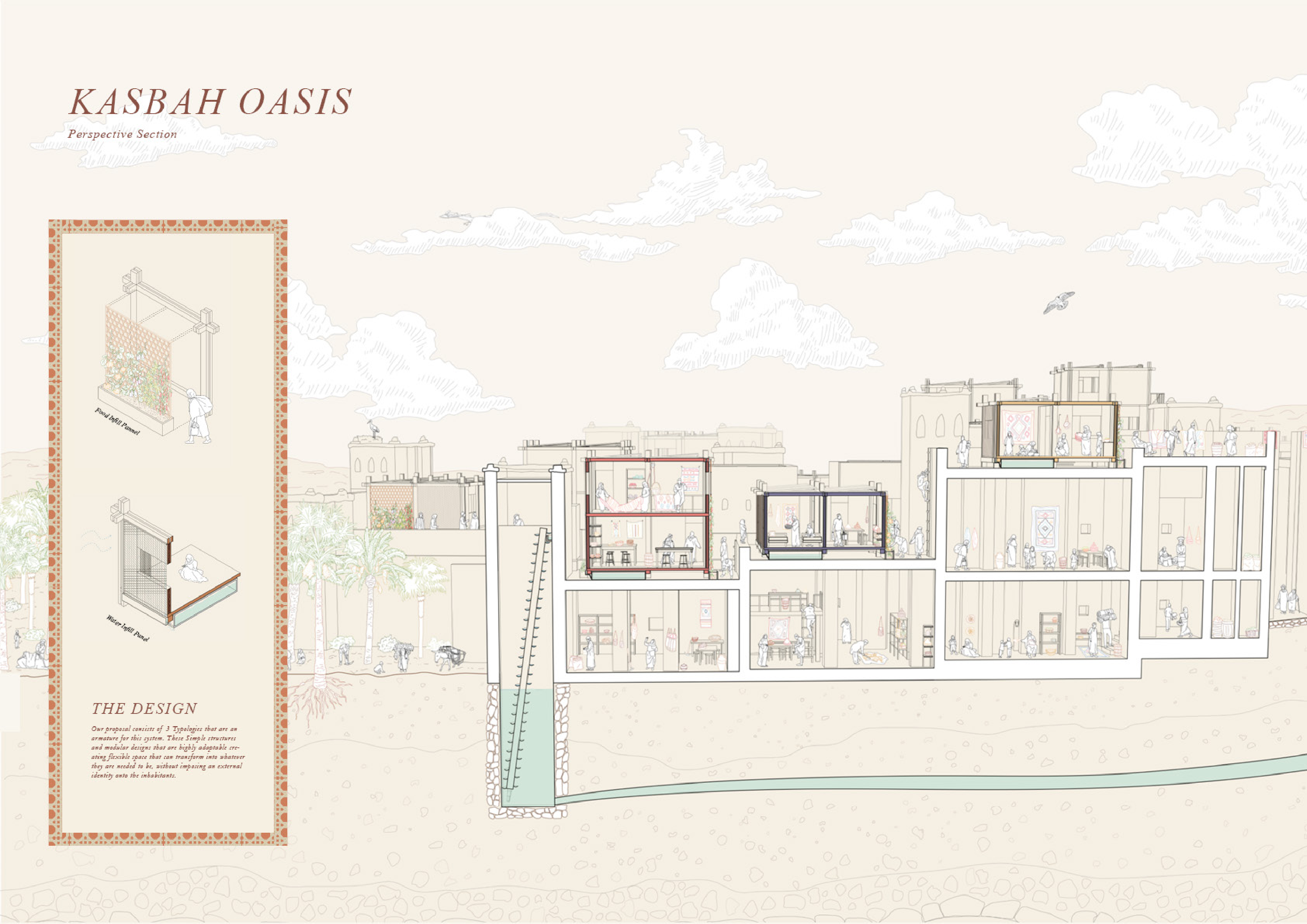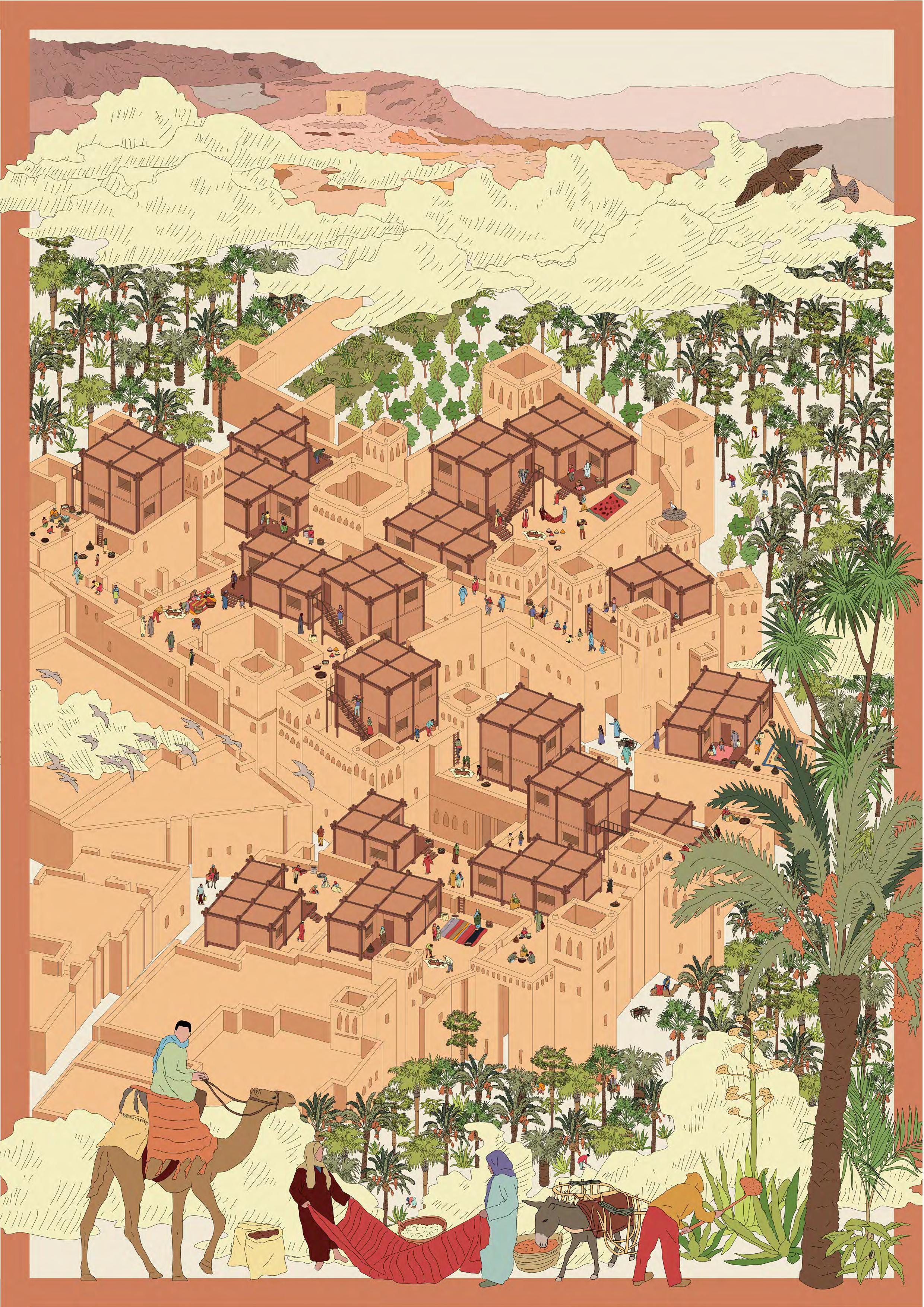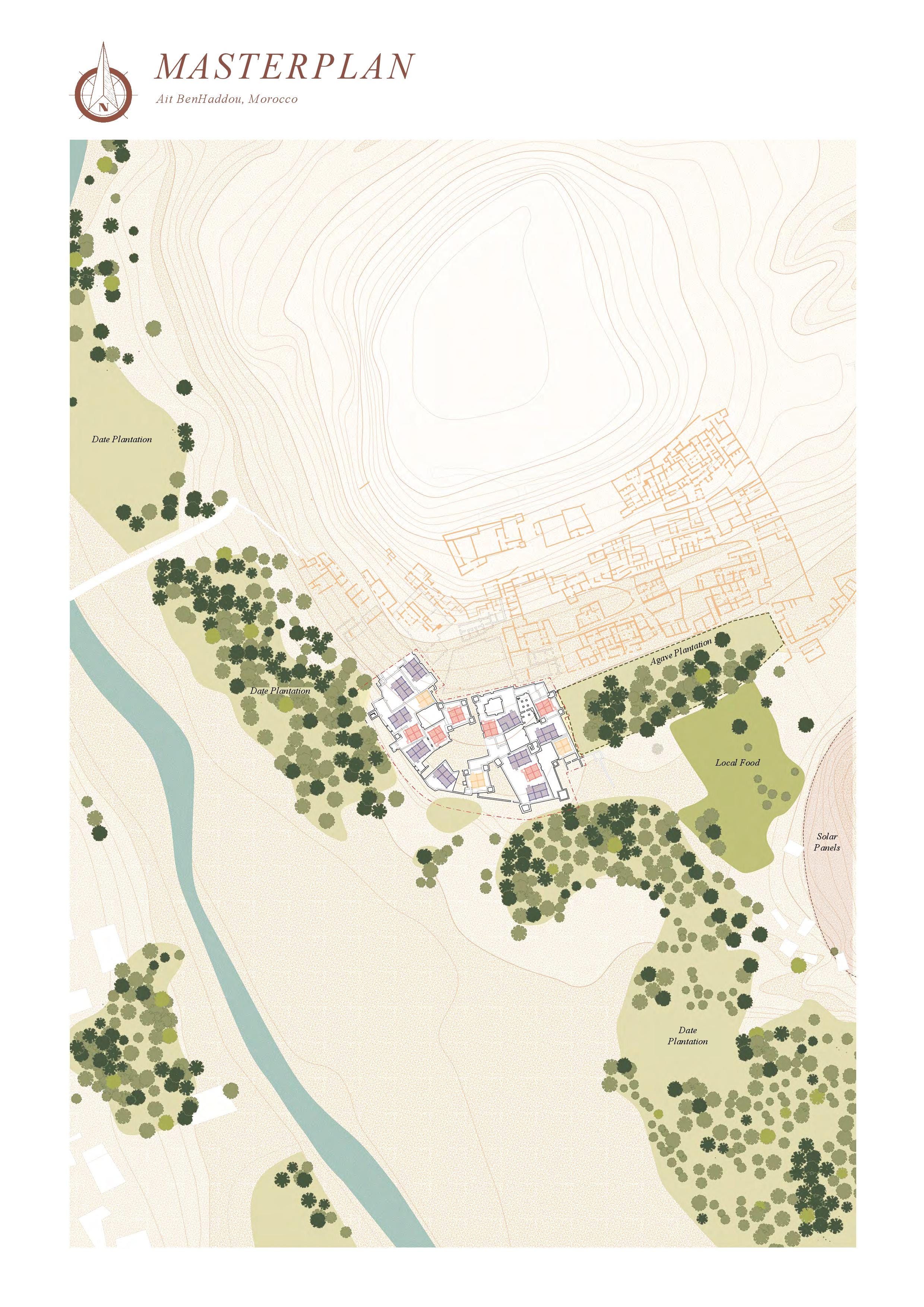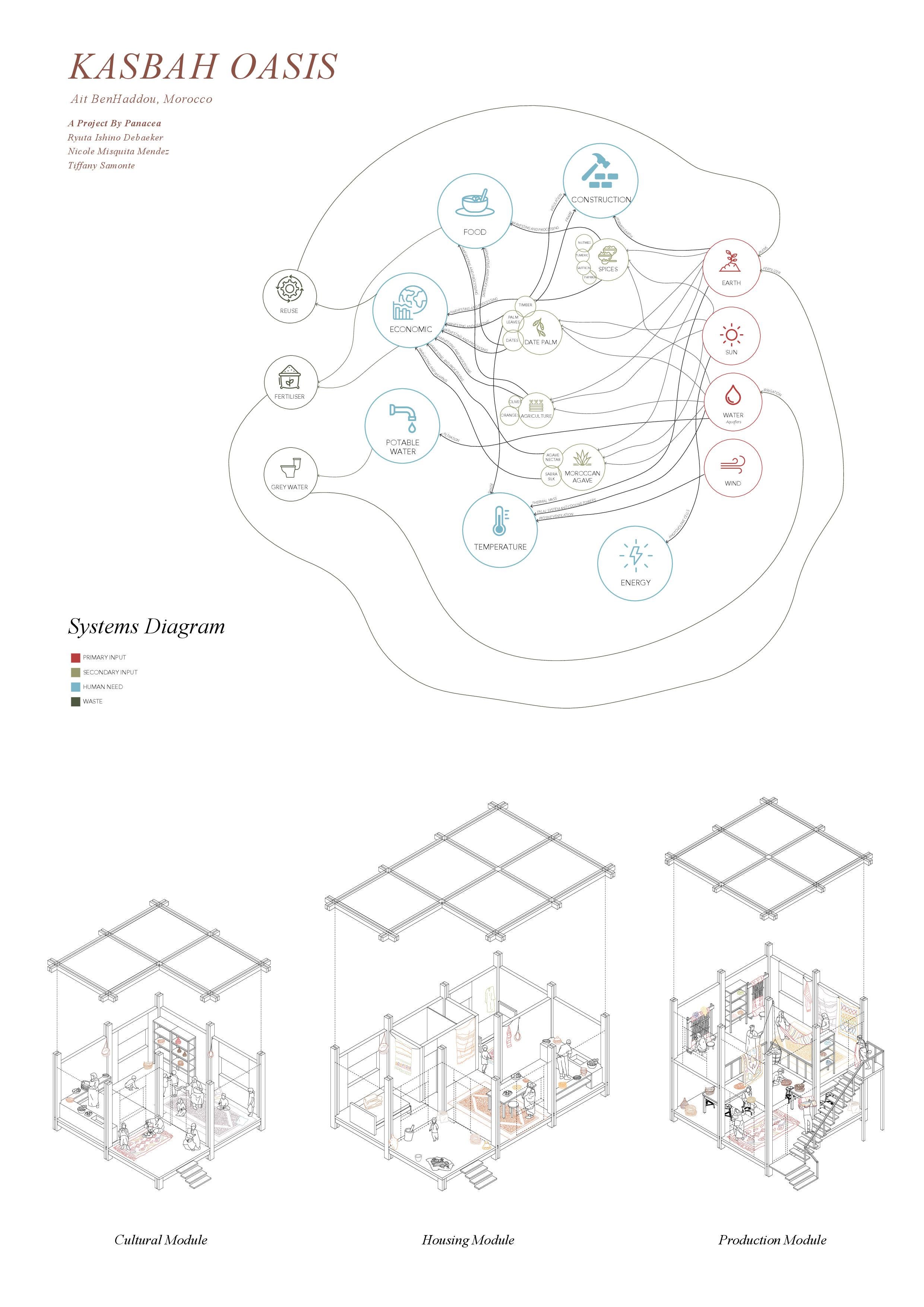 TEAM / RMR / PROJECT / REVIVE
Content from Youtube can't be displayed due to your current cookie settings. To show this content, please click "Consent & Show" to confirm that necessary data will be transferred to Youtube to enable this service. Further information can be found in our Privacy Policy. Changed your mind? You can revoke your consent at any time via your cookie settings.
Consent & Show
Our team's ingenuity originates from our diversity and ability to optimise designs and implement sustainable solutions. Megan, from 5 cultural backgrounds, is a graduate of Architectural Studies at UNSW with a passion for design, sustainable-tech, and urban design. Ruqayyah, an Australian-born Bangladeshi, is a graduate of Design in Architecture at UTS with experience in conceptual design and sustainability. Raquel, German and Chilean, is completing a Commerce degree at the USYD and is experienced in business strategy, project management, and e-commerce. The team works at X+P Architecture, a female-led company whose foundations are built from design excellence, diversity, and sustainability.
Through the revitalisation of traditional ingenious techniques, our project aims to combat desertification and re-educate by allowing the local community to re-learn lost crafts and practices and create a self-sustaining Oasis.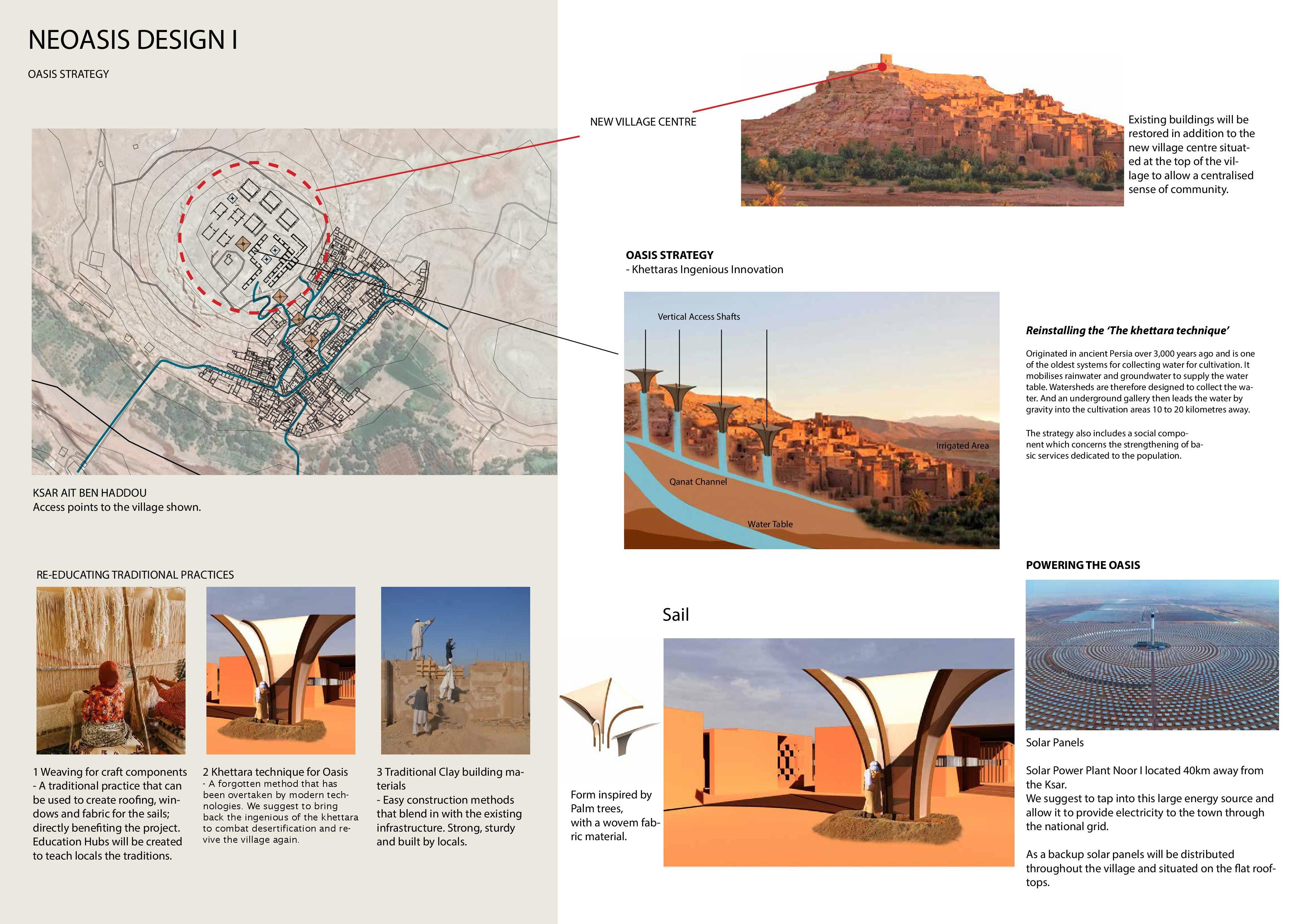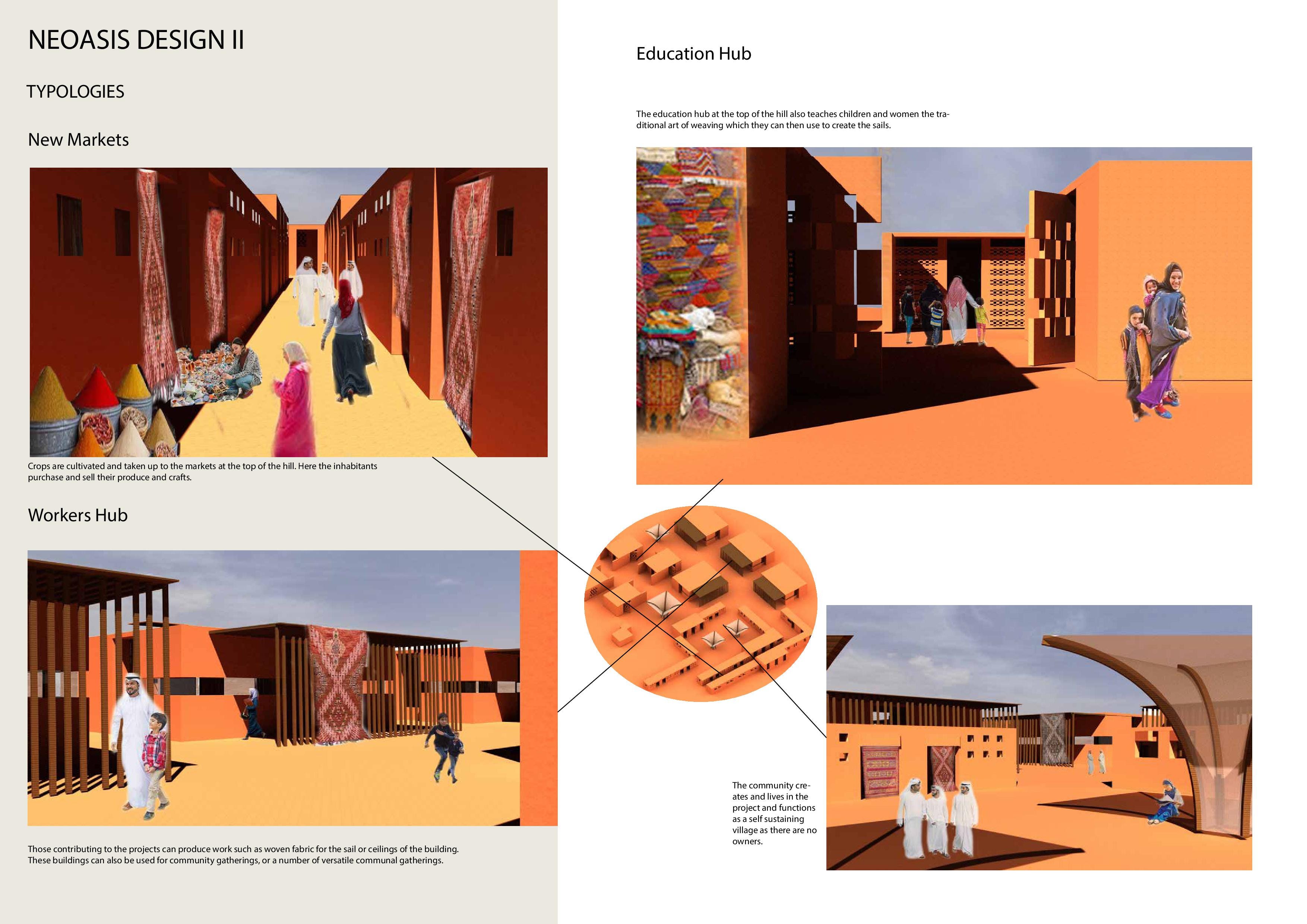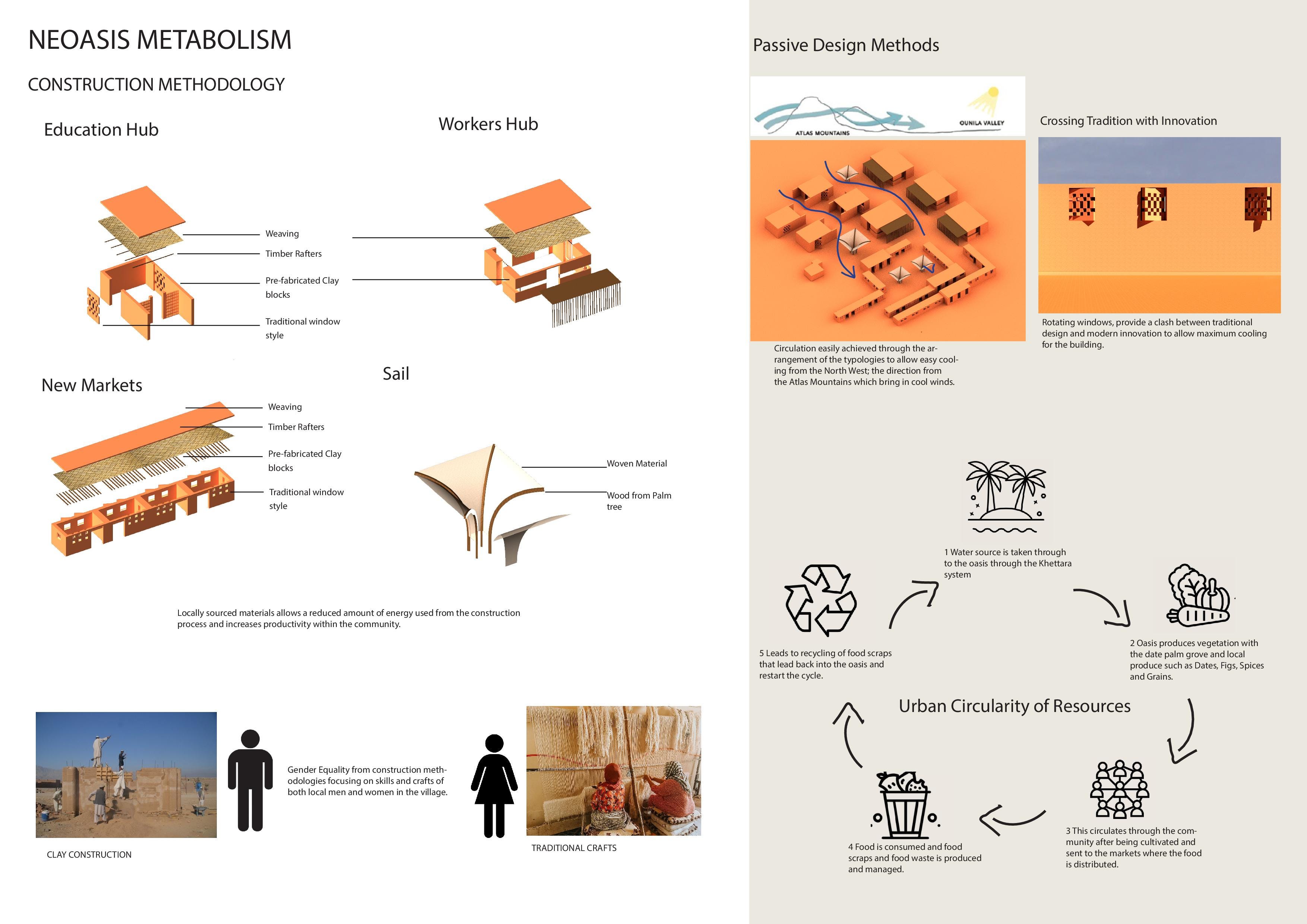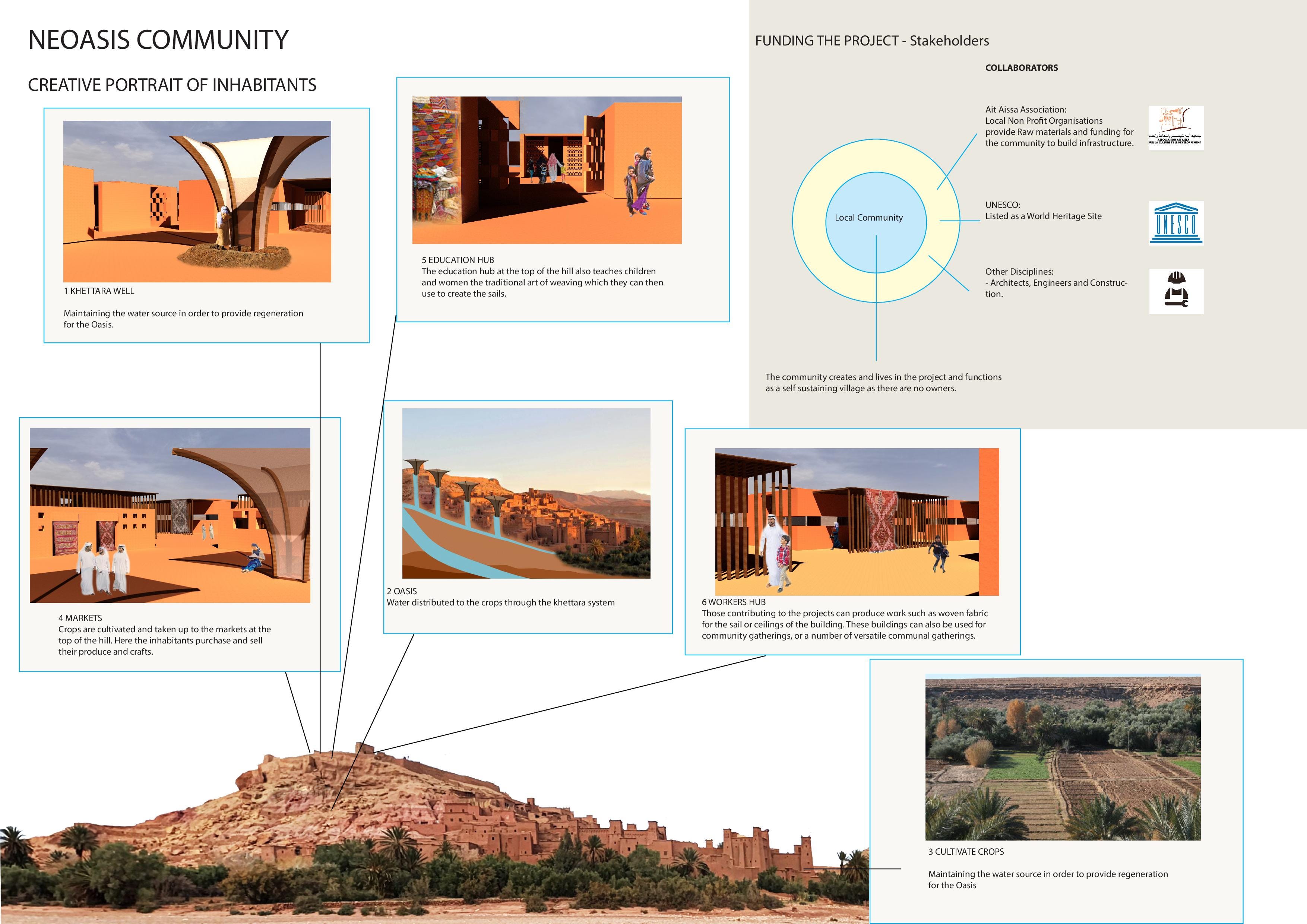 TEAM / The Wadi Lab / PROJECT /The Oasis-Lab
Content from Youtube can't be displayed due to your current cookie settings. To show this content, please click "Consent & Show" to confirm that necessary data will be transferred to Youtube to enable this service. Further information can be found in our Privacy Policy. Changed your mind? You can revoke your consent at any time via your cookie settings.
Consent & Show
The Oasis -LAB is a team of 3 young architecture students from Morocco. Nada, Rajae, and Soukaina decided to take up the NE[O]ASIS challenge to come up with innovative solutions regarding the future of the desert oasis.
Built around numerous skills also enriched by various cultural references, the team develops knowledge and identity that crystallizes through shared experiences.
Driven by the constant search for quality, we share the values that underpin our achievements and goals: creativity, rigor, and innovation.
Together, those three girls have built an ambitious common vision of the architectural and urban project, convinced that each project is a unique response that arises from the encounter between a use and a geographical and cultural context.
The main objective of the Oasis-Lab is to reflect and advocate the potential future of Ksar Ait Ben Haddou while celebrating the Oasian culture.
Through the use of materials, technology, and landscaping, the project primarily explores and attempts to address the following: breaking the depletion of the oasis and its habitat, combating desertification, ways the Oasis-Lab can impact and contribute to the surrounding areas, evolving labor skills in Ksar Ait Benhaddou, highlighting Moroccan culture and the desert oasis experience, and improving livelihood opportunities.